Infrared testing
It's amazing what lightning and overload can do to your system. An infrared scan will find these problems before an outage does.
Overloaded Transformers
Hot elbows
Hot elbow arrestors
Hot secondary wires and blocks
Undersized neutrals
Repairs/Maintenance
Lets face it, overtime things happen to URD equipment. While at the cabinet location, our technicians can correct many of the problems a cabinet has.
Repair/replace locking assemblies and penta assemblies
Patch holes in fiberglass or metal basements and cabinets
Stop transformers from leaking oil
Clear brush and obstructions
Clean inside of cabinets filled with dirt
Ground resistance test (OHM)
Change warning, danger and ID # stickers
Install locator bond to outside of cabinet
Install fiber optic or telephone bonds to utility ground
Leveling
Concrete protective post installation
Install/replace cable route markers
Install/replace reflective location markers
Add grounds to bring cabinet to code
PCB oil test
Fill sunken cable trenches or washouts
Tag elbows & secondaries
Stray voltage test
Install secondary block covers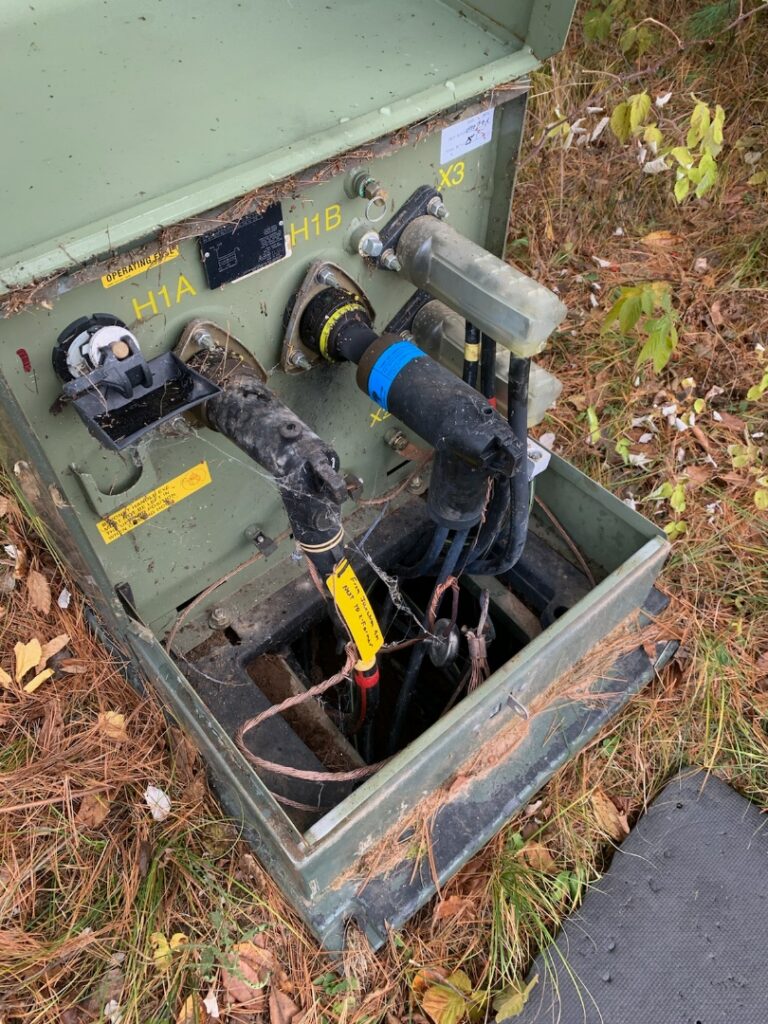 Report maintenance items
When a problem is found, good documentation is key to remedying the problem in the most effecient way possible. Our reports can come with real time GPS coordinates and a photo of the issue attached right to the record. This way, the linecrew can view the problem before leaving the shop, taking the guess work out of "what to bring" out in the field.
Elbows backing off bushings
Swollen elbows
Hot elbows and arrestors
Corroded grounds
Improperly grounded equipment
Equipment sunk or located in a dangerous location
Customer obstructions prohibiting proper operating-clearance
Underground protective caps
Y splices
Mapping errors